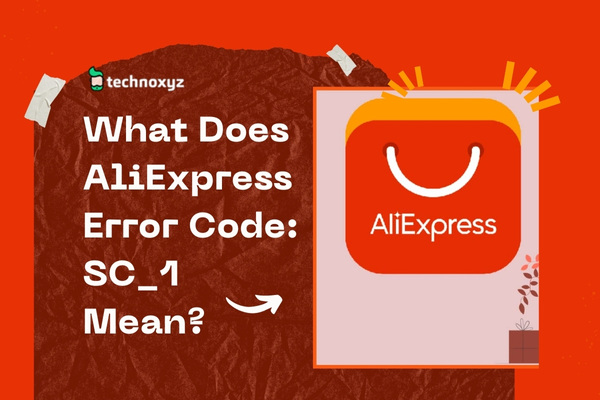 Introduction
AliExpress, the renowned online shopping platform, has revolutionized how we shop for products from across the globe. However, users may encounter occasional transaction errors like any other online service.
One such enigmatic code is Error Code: SC_1. Though it may initially baffle users, understanding its purpose and implications can help ensure a secure shopping journey on AliExpress.
In this article, we'll delve into the depths of Error Code: SC_1, exploring its meaning and the reasons behind its occurrence.
What is Error Code: SC_1?
At first sight, Error Code: SC_1 might appear cryptic and perplexing. However, it is merely a safety measure AliExpress took to safeguard its users from potential security threats.
This error indicates a hiccup in the account verification process or a mismatch in the login information and security settings.
Account Verification Issues
Error Code: SC_1 often occurs due to complications during the account verification process. When users sign up or attempt to log in, AliExpress undertakes various security checks to ensure the validity of their information.
These checks include confirming the user's email address, phone number, and other relevant details. If any of this information is incorrect or incomplete, SC_1 may emerge, preventing access to the account until the verification is completed.
Security Settings Mismatch
The security of users' accounts is of utmost importance to AliExpress. As a result, their security settings are robust and intricate.
When a user's login attempt deviates from their usual patterns or if there are signs of potential unauthorized access, the system raises the SC_1 error as a cautionary measure.
This step aims to protect the account from unauthorized access and potential misuse.
Multiple Failed Login Attempts
Repeatedly entering incorrect login credentials triggers Error Code: SC_1 to safeguard against brute-force attacks. Such attacks involve automated tools attempting to guess passwords and gain unauthorized access. The error acts as a roadblock for the malicious entity, preserving the account's integrity.
Unusual Activity
Any unusual activity on an AliExpress account, such as rapid changes in shipping addresses, sudden large purchases, or accessing the account from unfamiliar locations, may trigger the SC_1 error. This is a protective measure to prevent fraudulent activities and protect both the user and the platform.
Resolving Error Code: SC_1
If you encounter Error Code: SC_1 while using AliExpress, there's no need to panic. The error indicates that AliExpress is working hard to safeguard your account.
Verify Account Details: Check that all information entered during account registration is correct. Update any info that has changed since the account was created.
Password Reset: If you fear your account has been compromised or have forgotten your password, use the 'Forgot Password option to reset it.
Contact Customer Support: If you cannot address the problem independently, contact AliExpress customer service for assistance. They can assist you in navigating the verification procedure and troubleshooting possible problems.
Final Words
While Error Code: SC_1 on AliExpress may appear annoying during your buying expeditions, it acts as an important layer of safety for your account.
AliExpress uses SC_1 to keep your personal information and transactions safe, whether it's an issue with account verification or potential security concerns.
So, the next time you encounter this mistake, know that AliExpress is looking out for your best interests, providing everyone with a secure and enjoyable online buying experience.